Using Presets in the Classroom
Instructions
In the live classroom, click the Table tab at the top of the screen.
Click the Seating arrangement drop-down menu.
Select Apply Preset.

Select the desired preset.

Throughout the class, you can choose different presets and Engageli will move learners automatically.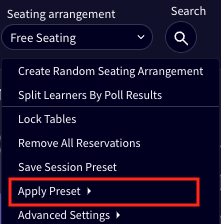 You can learn more about table settings in class here.
Click to learn how to add a tag to your presentation to easily activate a table preset or put learners into a random table arrangement.
Need more help? Contact Support.