Collaborative class files are now included in classroom recordings viewed in Engageli Playback Rooms.
A class document is a file that opens for the entire class to view and edit directly on the Engageli screen. Instructors can use this feature to distribute a file to learners to collaborate in real-time for full-class contributions/activities. When instructors record their sessions, shared class documents are available for asynchronous learners who view the recording in the Playback Room.
In the class recording, there's a marker to show when the document was shared. When the viewer reaches that point in the recording, the document will open in a new tab at the top of the screen. The viewer can add to the document as well as see the contributions of their classmates from the live class.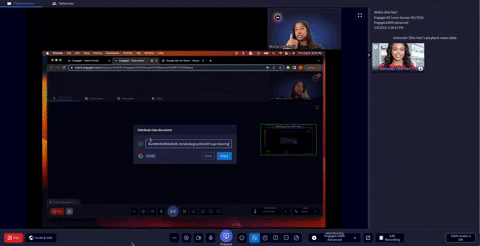 Note: Viewers should pause the recording before working on a collaborative class doc in a Playback Room.
Teaching Tips for Class Recordings and Class Docs
Share a class-wide collaborative doc (Google materials or Microsoft 365 materials) during the live session and have verbal and written instructions for asynchronous learners to contribute and collaborate on these materials in the Playback Room.

Use discussion prompts, group work, and class collaborative documents in your live instruction.

Use video clips, polls for icebreakers and assessments, collaborative materials, and the Q&A to make your recording more engaging.

Collaborative class materials shared during the live class session will appear in the Playback room for async learners to contribute and use for similar learning activities.

Detail activity instructions in multiple modalities and places (verbally in the class recording, written on presented slides, detailed in the class collaborative doc, posted in the LMS announcements or message board, and/or in the Q&A).

Detail the recommended time for activities and instruct asynchronous learners to pause the recording to complete the activity (for "think time" and "do-now's").
Click an article below to learn more about:
How to Set Up and Distribute Documents
How to Add Google Suite Materials
How to Add Microsoft 365 Materials
Note: This feature is only available for Google Documents, Sheets, Slides, and Microsoft 365 Word and PowerPoint files shared class-wide. Like table audio and whiteboard, distributed table docs are never recorded for learner privacy.
Need more help? Contact Support.