You can request that an individual learner raise their hand, or you can call on all learners who have not spoken yet.
Request A Learner to Raise/Lower Hand
1. Hover over the student's video feed in the gallery view, and click on the drop-down menu in the top right corner of the feed. Then click "Request raise hand."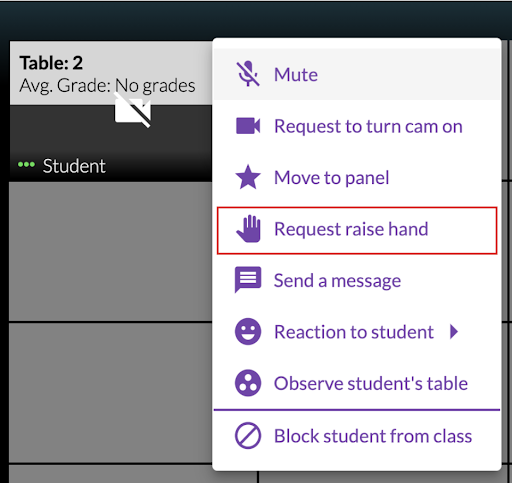 2. As a result, the specific student will receive the following screen reader alert at the top of their screen.

3. Under open mode, a student will be able to click the purple "RAISE YOUR HAND" button and join the podium. Under moderated mode, they will join the queue to await your approval.
Pro Tip!: You do not need to request that a student lowers their hand. If a student remains on the podium too long, you can hover over their video on the podium or in the gallery and select "Lower hand."
Call on all learners who haven't spoken yet
1. Click the "Call all students who didn't speak yet" icon in the Actions menu.

2. All learners who have not joined the podium prior to you clicking the icon will receive the following screen reader alert: