Playback rooms are open classrooms where you can, independently or in a group of up to 10, access class content and engage with the material. Sitting around a virtual table, you can review class recordings, participate in polls, ask and answer questions in the Q&A, take notes, and - if in a group - chat, talk, and learn with other classmates.
Accessing the Playback Room
You can access all recordings directly from the same Engageli classroom link that you use for your live classes.
1. Open the classroom URL and select Playback room at the top of the screen.
2. Then, Enter Playback Room.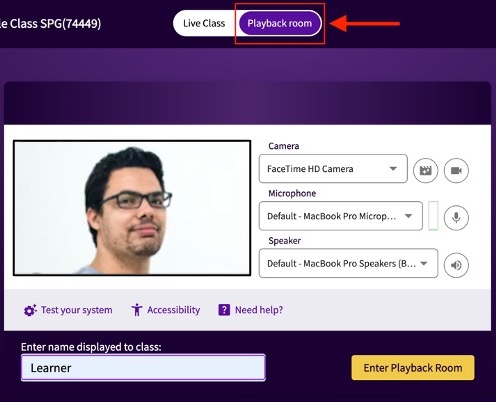 3. Once inside, choose the correct recording. The recording will come up in the center of your screen.

4. Then, you can easily engage with the recording and material. Try doing the following:
Move through the video recording (play, pause, fast forward, back up)

Answer polls as they come up in the recording

View poll responses from the class

Review and take notes

Ask and answer questions from class in the Q&A

Chat with other learners present in the Study Hall

Open a whiteboard for brainstorming, sketching, and diagramming
Note: Attendance is recorded for Playback Room attendance, so be sure to watch the entire class recording in order to be marked "present."
Creating a Group Study Hall
1. To create a group study hall so that learners can work together, one learner should join and send out an invite link accessed from within the Playback Room.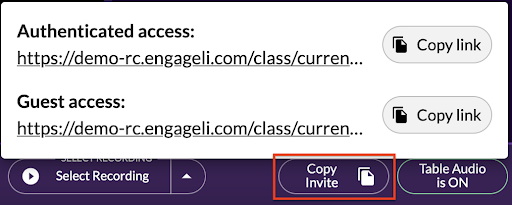 Please Note: When creating a group, the learner who started the group will retain the playback controls. That learner can pass the playback controls to another learner by clicking the menu in the person's video feed, and then clicking Make Host.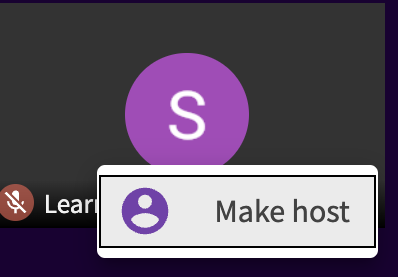 Need more help? Contact Support.