Instructors using Engageli on a browser or the instructor application can use an iPad or other tablet as a second monitor for more screen real estate and a view of the class gallery while sharing presentations and running polls.
This allows learner videos to be displayed on your computer while the presentation you are sharing is displayed on your iPad. This increases the number of learner videos you can see while you share your screen, so you can observe engagement markers and non-verbal reactions and feedback.
Pro Tip! If you use Apple products, your iPad can work as a second monitor with Sidecar.
Check to make sure your iPad and computer are compatible with the

Sidecar system requirements

.

Sign in to iCloud on both devices using the same Apple ID.

Connect the iPad to your computer using a USB cable, or for a wireless connection, turn on WiFi, Bluetooth, and

Handoff

on both devices.

Make sure to use the same WiFi network and Apple ID on both devices.
To set up Sidecar on your Mac computer:
1. Go to System Settings and click Sidecar.
2. Select your iPad to connect. (If you don't see your iPad, try restarting both devices.)
3. Go to the Display icon in the top menu.
4. Click the iPad icon and then connect to your iPad. Make sure "Use as a separate display" is checked.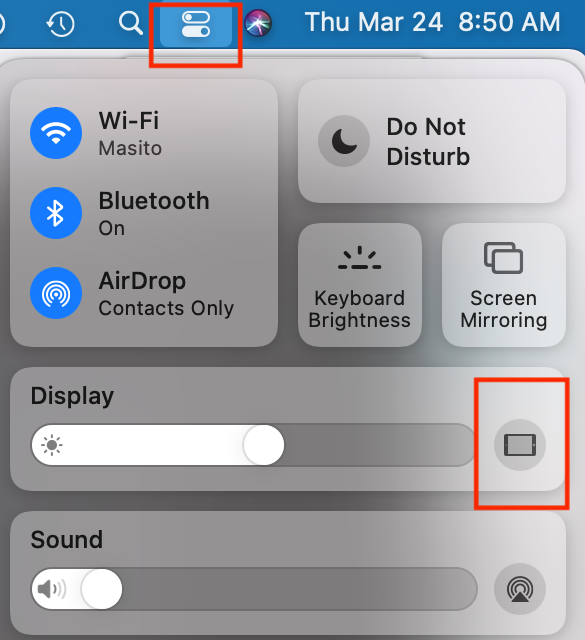 5. Once connected, drag your presentation or document to the right of the screen to display it on your iPad.
After sharing your screen, if you change your Engageli view to the class gallery, you'll still be able to see your presentation on the iPad.
Click here for more information on sharing your screen.
Need more help? Contact Support.