Q&A threads always persist between

live

class sessions

as well as in the Playback Room,

and you will see all posted questions and answers whenever you log into the classroom

or the Playback Room

.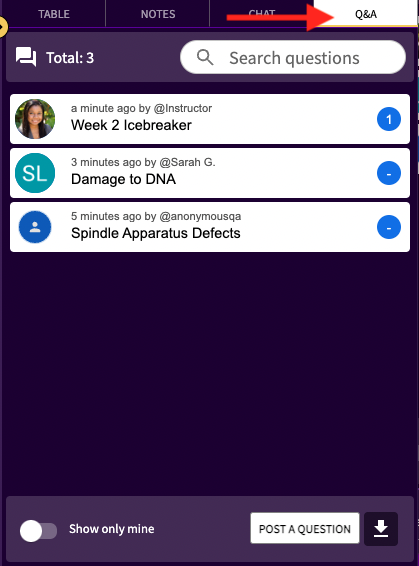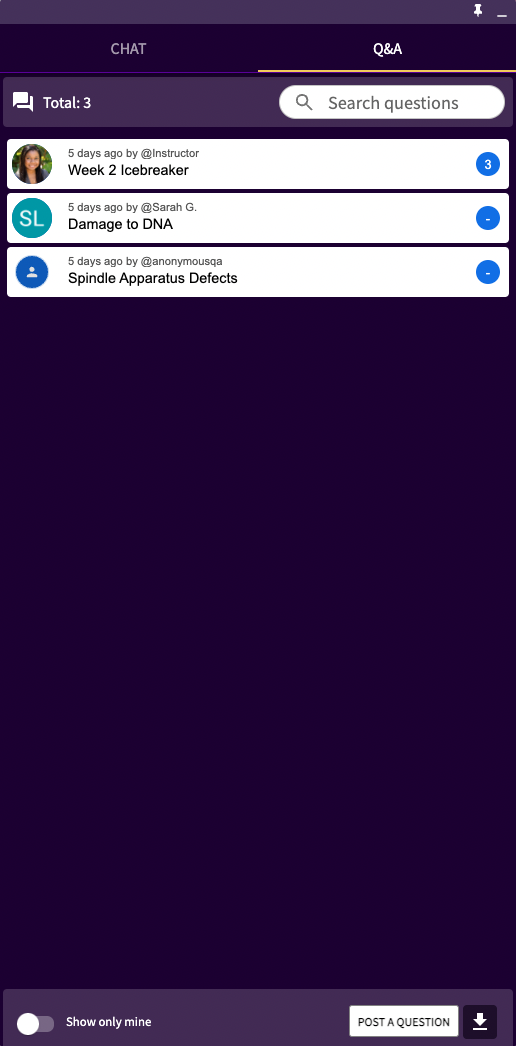 Browser Instructor Application
Ask a Question
1. Click the Q&A tab.
2. Click Post a Question.
3. Add the question in the SUBJECT field.
4. Add any additional details or descriptions in the DESCRIPTION/DETAILS field.
5. Click SUBMIT.
Once posted, the entire class will see a notification and be able to view and reply to the question. Select Anonymous mode to submit your question anonymously.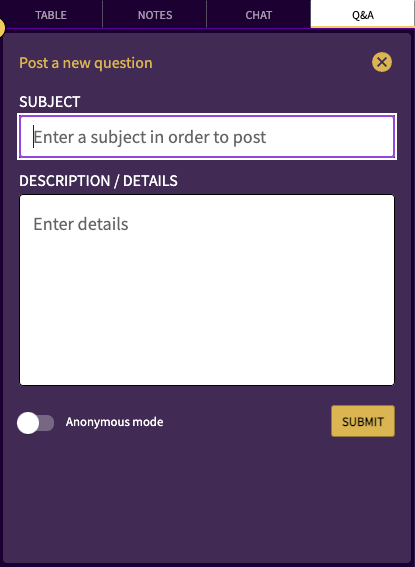 Answer a Question
To reply to a question, click the question to be answered and write your reply in the space below. As the instructor or co-instructor, any answer you post on a question will appear green, signifying that it is correct. Select Anonymous mode to submit your answer anonymously.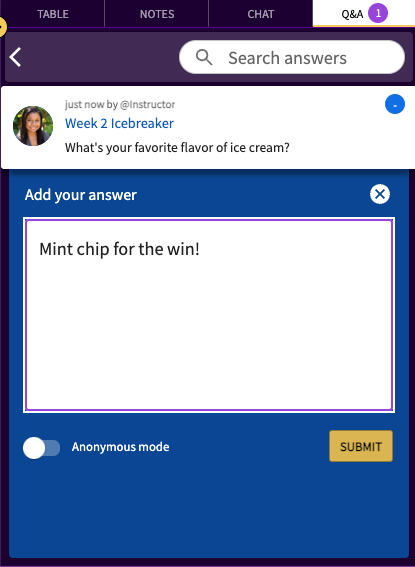 Download the Q&A
You can also download the Q&A thread for your class in the Admin Portal. In the Admin Portal, select Q&A from the menu on the left, and then click DOWNLOAD Q&A.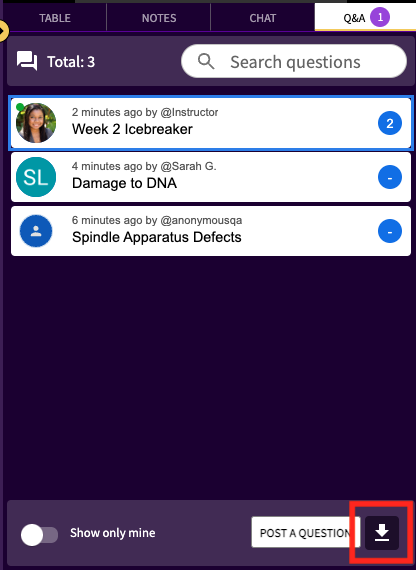 Mark the Correct Answer
To mark an answer as correct, hover over the entry in the forum and click the thumbs-up icon. When an answer is approved, it turns green within the forum.
Note: More than one answer may be marked as correct.
Questions with approved/correct answers are always listed at the top of the thread in order from newest to oldest, and below them are listed questions with unmarked answers in order from newest to oldest.
Remove a Question or Response
To remove a question or answer from the Q&A, hover over the question or answer and click the bin icon to delete it.
Note: Teaching Assistants (TAs) can also mark correct answers and remove questions or responses.
Engagement Tip! Since the questions and answers persist through live sessions and the Playback Room, instructors can use the Q&A feature to:
Make course or lesson announcements that persist over time and into the Playback Room.

Conduct a syllabus quiz to ensure learners know assignment dates and requirements and can review them at any time.

Engage in icebreakers that are available to both synchronous and asynchronous learners and connect learners in all modalities.

Paste links to online files, documents, videos, or other materials if you'd like learners to have consistent access to them. (Note: In Engageli 2.1 links added to the Q&A are not automatically hyperlinked, so instruct learners to highlight, copy and paste the URL into a browser.)

Download the Q&A either in the live session or in the Admin Portal and use this as formative or summative assessments (graded or ungraded, as needed).
Engageli 3.0
In Engageli 3.0, you can add clickable links to the Q&A.
If you are already using Engageli 3.0, click here for support articles.
Need more help? Contact Support.