There are many ways to track engagement in Engageli. These markers can help you keep a pulse on how the class is engaging with and learning the content so you can adjust as needed.
Individual Engagement Markers
1. Thumbs up/thumbs down
You can ask learners to give you a thumbs up or down. Everyone will see the thumbs appear instantly on the screen, but only instructors and TAs will see individual thumbs up/thumbs down on the learners' video feeds in the Class Gallery.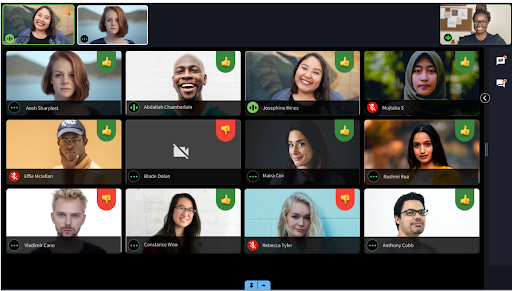 Thumbs up or down can be used to get quick feedback, check understanding, or check if learners are paying attention. Some example questions to use with thumbs are:
"Do you understand the material we just covered?"

"Give me a thumbs up if you can see my screen."
Pro Tip! Use thumbs up or down to check engagement for learners with their cameras off. When coming back after a break, if many learners turned off their cameras, ask for a thumbs up if learners are back and then look at the class gallery to see how many thumbs up there are.
Engageli 3.0
In Engageli 3.0, there are new reactions and sounds for learners and instructors. Click here to learn more.
2. Green Dot Marker
Each learner has an engagement marker next to their video feed in the Class Gallery.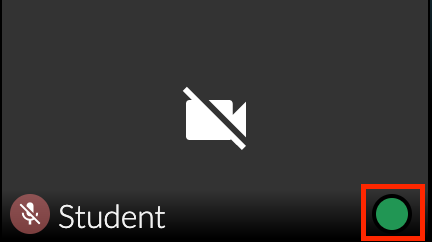 The green dot marker represents when a learner is "active," meaning that they have recently interacted in the classroom in some way. The green dot resets to the maximum size (5) each time a learner does one of the following:
Writes a question or answer in Q&A

Responds to a poll question

Raises hand

Lowers hand

Shares screen with their table

Shares screen with their class

Uses thumbs up/down

Uses emojis

Initiates audio activity (speaking, unmuting microphone)
Note: The green marker decays and appears smaller after some time. The decay is linear, from maximum (5) to minimum (0) over three minutes. Hovering over the indicator in a learner's video feed shows an engagement value out of 5 (Engagement - 5/5). Any form of activity listed above will turn the marker green.
The gray dot marker replaces the green markers when a learner who was previously active has not recently interacted in the classroom. In general, a green marker will turn gray after three minutes. The gray marker corresponds to an Engagement rating of 0/5.
No marker simply means the learner has not interacted in the classroom at any point.
The perforated (dotted) marker indicates that a learner who was seated at a table has left the class. They are still represented in the class by what's called a reservation, as explained in this article.
You can also see the green dot marker in the List view under MY View>Tables.

3. Table Engagement
In addition to the learner's video feed and the Lists view, the individual engagement markers trigger an engagement indication at the table level, which you can see in Tables under My View.

Similar to the green dot marker, the green table ring decays and fades away after some time due to inactivity. The decay is linear, from maximum (5) to minimum (0) over three minutes.
Need more help? Contact Support.