On Engageli, you can send direct messages to individual learners, an instructor, staff (instructors and TAs), individual tables, or the entire class.
Instructions
1. Click the Chat icon at the bottom of the screen.
Engageli 3.1

Engageli 3.0

2. The Chat will open in the right side panel. You can close and open the chat as needed.
3. Select the intended recipient(s) by clicking the chat destination field. The default channel is "Room," which includes everyone in the classroom.
There are channels for:
Room - All participants in the class

Staff - All instructors and TAs in the class

Table - All participants at individual tables

Participants - A specific person
Note: If you change the table names, you will see the customized table names in the chat channels menu.
4. Enter your message. Click the smiley face to add emojis.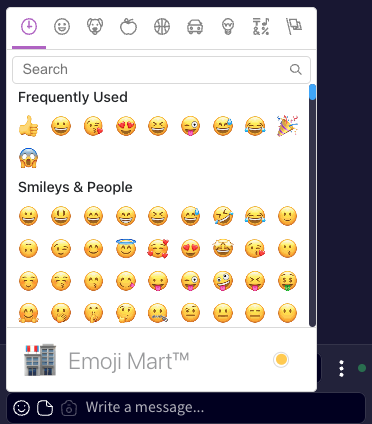 5. You can also attach files to messages: documents, spreadsheets, slides, images, videos, text files, and PDFs.

6. Click the send button or the return or enter key on your computer.

Click to learn more about the Chat features.
Search, Select, and Download Messages
To search for a message, click the three dots menu to the right of the destination field.
You can choose to search for a message, select messages, or download messages and files.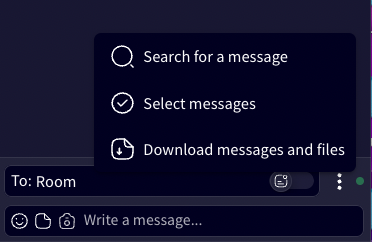 React, Reply, Edit, and Delete Messages
Hover over the top of a message to see the following options:
Reaction - Choose from five reactions: thumbs up, thumbs down, question mark, fire, and smiley.

Reply - Add a reply to that specific message.

Edit - Edit your own messages after they are sent.

Delete - Delete messages after they are sent.
Instructors and TAs can also delete messages from learners.

Enable Announcements
Instructors and TAs can use the Chat feature to send announcements that appear as notifications at the top of the screen.
1. Select the recipient(s) for the announcement.
2. Click Turn on chat announcements [Toggle to enable snackbar notification in Engageli 3.0].


3. Enter the message contents.
4. Click Send.
5. Your message will appear at the top of the participants' screens.

Engagement Tips
Make announcements to dedicated channels (Room or Staff)
You can send a message to the "Room" channel before you switch audio modes from Table to Room mode after a group activity so learners know they'll be heard by everyone after the switch.
Add prompts for activities
You can add instructions for activities to the "Room" channel when learners are in Table mode and are using other collaborative features such as Google docs, whiteboards, or video clips.
Communicate with learners while playing video clips
Learners are automatically muted when you show YouTube videos or other video clips, so you can ask learners to communicate through the Chat.
You could have learners discuss the video clip using the "My Table" channel or message learners about specific time points, themes, or important ideas in the clip.
Upload and share presentations and documents
If you are using group projects, you could upload group presentations or peer feedback rubrics in the "Everyone" channel so learners can review presentations and rate their peers.
Upload and share reference files
You can upload research articles about specific topics to the "Room" channel so that learners can understand the type of references they should be using for their own research papers.
Upload and share activities
You can join individual tables and upload table-specific activity instructions in the "My Table" channel so that each table gets specific instructions.
Facilitate icebreakers
If you have many learners who can't turn their mics or cameras on, you can pose icebreaker questions in the "Everyone" channel such as:

Any "This or That" type question (feel free to use questions in the This and That Poll template).

Ask learners to use the Emoji menu to describe their day.

Use these icebreaker templates:

You can upload Get to Know You Bingo files in the "Everyone" channel and learners can move to different Tables to get to know each other.
Solicit feedback from learners in real-time
Pose content-based checks for understanding in the "Room" channel
You can instruct learners to message their answers privately to you as the instructor by selecting your name from the channel list.
Need more help? Contact Support.