Deep Linking is an extension to LTI that allows data to be passed back to the Learning Management System (LMS), such as Canvas or Moodle, in the context of an LTI launch of an online learning platform such as Engageli. With the inclusion of this extension, institutions can leverage Deep Linking to provide a seamless launch experience between the LMS and Engageli. Below are three examples of deep linking Engageli classrooms and courses within Learning Management Systems (LMS).
Example 1: There are 3 courses in the LMS with their own instructors that will have regular classes on Engageli. These 3 LMS courses will also have a combined Engageli classroom that all instructors can access for team teaching.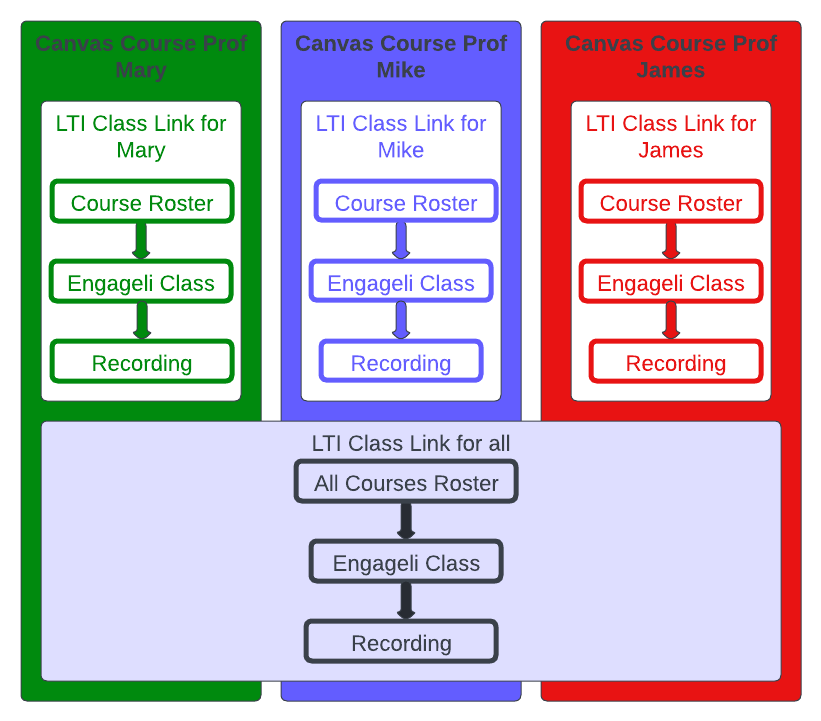 Example 2:
There is one single course in the LMS that has 3 student groups, and each group has its own instructor. These 3 groups will also have a shared classroom where all groups/all instructors can meet.

Example 3:
An institution has 2 or more LMSs and a faculty member would like to use the same Engageli classroom for all LMS instances/courses.
Need more help? Contact Support.